Pilot Dredging Project Updates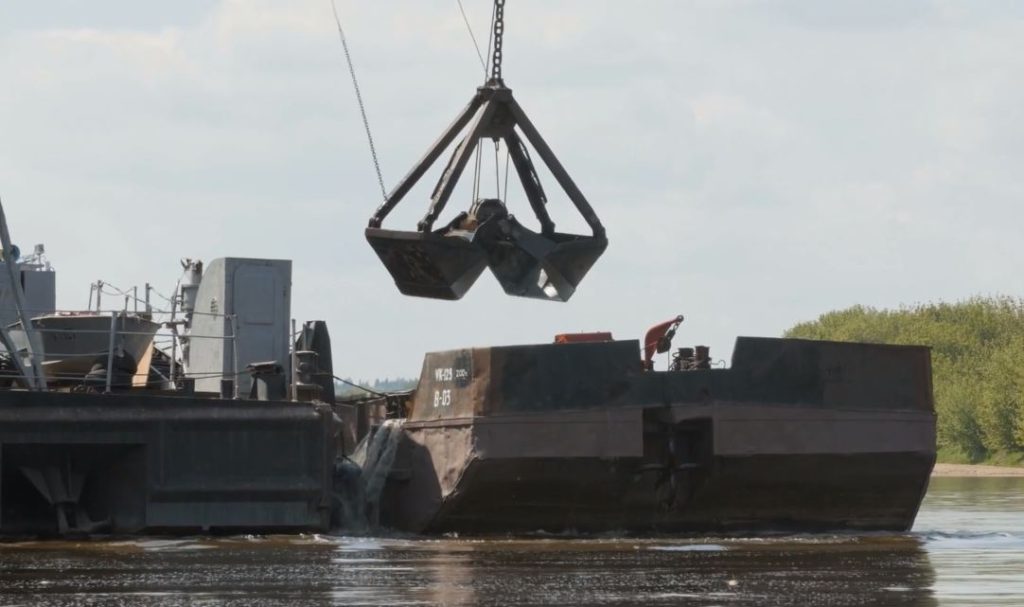 2022
A report summarizing the findings of the demonstration projects will be issued by summer 2022.
February, 2022:
State Budget and Conowingo Factor:
In the Governor's proposed FY2023 Capital Budget (SB 291), there is funding dedicated to implementation of the Conowingo WIP and pursuit of dredging. Here are the Capital Budget line items:
MDE – Office of the Secretary:
Conowingo Dam. Provide funds to design and construct the enhanced dredging program and implement the Conowingo Watershed Implementation Plan (Regional) ……. $25,000,000
Maryland Environmental Service (MES)
Conowingo Dam. Provide funds to continue design of the Conowingo Dam capacity recovery and dredge material innovative and beneficial reuse project (Regional) …..$6,000,000
2021
December, 2021
A copy of the MES Project Update (a power point presentation) given during the Clean Chesapeake Coalition meeting December 8, 2021 during the MACo conference:
August, 2021
The contractor engaged by MES – Northgate-Dutra – completed a Sediment Characterization Report describing the chemical and physical characteristics of Conowingo reservoir sediments. The report is available on MDE's website. The results will be used to determine environmentally safe options for dredged material reuse. The pilot dredging demonstration is scheduled for Fall of 2021, and will include additional sediment characterization and reuse evaluation of the dredge area, followed by an economic analysis to assess the market value of different Conowingo sediment reuses. The Coalition will be issuing an outline of its review and recommendations regarding the Report.

The CCC analyzed the Sediment Characterization Report in August 2021. Below are CCC's comments regarding the report.

February, 2021
The Conowingo WIP Steering Committee, under the auspices of EPA Chesapeake Bay Program, met February 25th 2021, to begin review of 239 unique public comments (141 pages) received from 33 individuals / entities during the 90-day public comment period (10/14/20 – 1/21/21).
The draft Summary and Response to Public Comments on the Draft Conowingo Implementation Plan (CWIP) can be reviewed at the CWIP Steering Committee website.
2020
MES Conowingo Dredging Pilot Project Public Information Webinar Presentation
October 2020
Pilot Dredging and Sediment Characterization Finally Underway
Per Order dated August 12, FERC has approved the MES pilot dredging project – aka Conowingo Sediment Characterization and Innovative Reuse and Beneficial Use Pilot Project.
2019
With EPA signing off on the Phase III WIPs, attention must now be focused on the Conowingo WIP to ensure that plan includes action to meaningfully address the Conowingo factor by way of sediment management and dredging what is already accumulated in the reservoir in order to regain trapping capacity.
2018
July 27, 2018
The Maryland Environmental Service (MES) reissued a Request for Proposals (RFP) for a pilot dredging project in the Conowingo reservoir, this time titled: "Conowingo Sediment Characterization and Innovative Reuse and Beneficial Use Pilot Project." See the PowerPoint presentation here.
No explanation accompanied the official procurement notice as to why the project was being rebid, but the Clean Chesapeake Coalition spoke with the MES and gathered that the initially selected company, Northgate, was unable to develop a project that met the funding constraints.
MES hopes that, with the addition of the sediment characterization piece, they will be able to identify a vendor that can begin to understand exactly what kind of material is behind the Dam, propose ways to safely remove it, and identify appropriate measures for re-using it and/or disposing of it.

Here is how MES describes the Project Scope (Project D: 1-18-3-21-8R):

The Maryland Environmental Service is issuing this RFP to propose solutions for reducing the nitrogen, phosphorus and sediment inputs to the Chesapeake Bay with viable innovative reuses or beneficial uses (IRBU) of the accumulated sediments within the Maryland portion of the Susquehanna River upstream of the Conowingo Dam. The proposed solutions can be demonstrated either through a sediment characterization study, a demonstration pilot project, or both.

The total cost of the Project is not to exceed $3 million.

Responses to the latest RFP are due November 13, 2018.
May 11, 2018
INNOVATIVE AND BENEFICIAL REUSE PILOT DREDGING PROJECT AWAITS FINAL PERMITTING

With all of the news surrounding the Maryland Department of the Environment's (MDE) historic issuance of a Water Quality Certification (WQC) with special conditions to Exelon as a part of the Federal Energy Regulatory Commission's (FERC) re-licensing process, the Clean Chesapeake Coalition (CCC) has been curious about the progress of the pilot dredging project initiated last year by Governor Hogan.
This morning, CCC reached out to the Maryland Environmental Service (MES) for an update. According to the MES representative, Melissa Slatnick, the project is progressing through the permitting system. Ms. Slatnick was not able to provide a definitive timeline as there are facets of the process that are outside of MES influence. Here's what we do know:
MES has submitted a permit for dredging application jointly to MDE and the US Army Corps of Engineers – some requested modifications have already been made;
Once the application has been approved, MDE will issue a public notice and allow a 30-day comment period;
A public meeting, tentatively to be scheduled the first week in June, 2018, will be held to invite feedback and answer questions about the permit;
No dredging can start until after June 30 to avoid adverse impacts on anadromous fish spawning.
Simultaneously with the permit application process, MES is currently working through the details of the funding agreement with MDE.
In December of 2017, Northgate-Dutra was selected to undertake this project. However, without the funding "in the bank" so to speak, the outcome of that bid was simply declaring an intent to award. Until the contract is actually signed, we won't get any details about the specific plans for what happens to the material recovered from the Conowingo reservoir, although we have been assured they do meet MDE's standards for innovative and beneficial reuse.
Provided these concurrent applications continue to move through the system in a timely fashion, MES anticipates that dredging will begin sometime in late July or August of this year. MDE has dedicated a page on their website for information related to this project and will post the dredging permit application there once it is available for public comment. Other useful links on the page include an FAQ prepared by MES and information about past meetings related to this project.
The Clean Chesapeake Coalition has long advocated for dredging of the Conowingo "pond." While most environmental groups have focused on reducing the quantity of harmful pollutants entering the Susquehanna River, CCC has been calling for a two-pronged approach.
Clearly upstream practices affect the Chesapeake Bay and its watershed.
There is no question that efforts to prevent agricultural runoff and waste materials from entering water above the dam are an important long-term strategy. However, these measures do not address the current and critical reality of the dam having reached dynamic equilibrium. It is full, and therefore no longer acts as a trap to prevent dangerous, uncontrolled quantities of phosphorous-infused silt pouring into the Upper Bay each time an extreme weather event precipitates scouring and the opening of spill gates.
The CCC looks forward to following the progress of this pilot dredging project as we believe that the "Conowingo Factor" is an imminent threat, one that will have devastating consequences should we experience a 25- or 50-year storm event in the coming decades until improved runoff reduction efforts are in place in New York, Pennsylvania and Maryland.
2017
December 28, 2017
MES announced that it awarded the pilot dredging project to Northgate-Dutra Joint Venture, a California-based company. Read more here.
November 10, 2017
MES RFP for Conowingo Pilot Project – Response Deadline Extended to December 8
MES has issued Addendum No. 6 to the "Conowingo Capacity Recovery & Innovative Reuse & Beneficial Use Pilot Project" RFP The addendum extends the deadline for proposals to December 8, 2017. Click one of the following links for the RFP or the Addendum.
November 6, 2017
MES RFP – Conowingo Pilot Dredging Project
In answer to questions and concerns from local (Harford and Cecil County) residents, MES responded with a letter to the Town of Port Deposit and additional details about the pilot project's scope and impacts.
MES RFP for Conowingo Pilot Project – Addendum #5 Issued – Includes Core Sample Information
MES has issued Addendum No. 5 to the "Conowingo Capacity Recovery & Innovative Reuse & Beneficial Use Pilot Project" RFP. The addendum includes answers to more questions from potential offerors. It also includes the results from 24 core samples (2 samples each from 12 cores) taken from the pilot dredging site – in a report by Maryland Geological Survey titled "Coastal and Environmental Geology File Report No. 17-13: Conowingo Pond Dredging Secondary Site A Project: Coring Methodology and Results."
October 23, 2017
Town of Port Deposit – Conowingo Dam Pilot Dredging Proposal Potential Impact
Letter from Artesan Resources to Deputy Chief of Staff Jeannie Haddaway-Riccio
October 9, 2017
MES RFP for Conowingo Pilot Project – Addendum #3 Issued – Staging Area Identified
MES has issued Addendum No. 3 to the "Conowingo Capacity Recovery & Innovative Reuse & Beneficial Use Pilot Project" RFP. The addendum includes answers to questions from potential offerors and information about the proposed dredging area and staging area. RFP and Addenda below.
October 6, 2017
MES RFP for Conowingo Pilot Project – Addendum #2 Issued – Proposal Deadline Extended to November 7
MES has issued Addendum No. 2 to the "Conowingo Capacity Recovery & Innovative Reuse & Beneficial Use Pilot Project" RFP. The addendum includes answers to questions from potential offerors.
Federal Hydropower Legislation (H.R. 3043)
Below is a copy of correspondence from Congressman Andy Harris to Cecil County regarding H.R. 3043 (Hydropower Policy Modernization Act of 2017 now pending in the House of Representatives).